NOVELTIES
All brand-new products can be found in this category.

CUT! Making the Right Cut!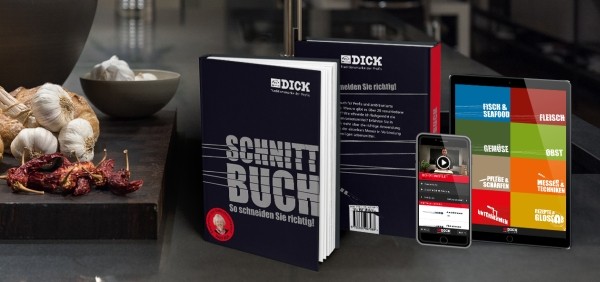 The correct usage and operation of the individual knives, in combination with the different food products not, are demonstrated in this book through over 90 different cutting techniques. The most important applications are also available as videos. The videos can be called up and viewed on a Smartphone or tablet PC by scanning the corresponding QR code

| Item No. | Language |
| --- | --- |
| 9800090 | german |
| 9800091 | english |
Stunning device for large poultry up to 25 kg
No ammunition needed. The BTG stunning device for large-sized poultry is solely designed for stunning during the slaughter and emergency killing of poultry (chickens, ducks and turkeys up to 25 kg) and small rodents up to 5 kg. The BTG is not suitable for stunning geese and ratites or larger mammals (e.g. lambs or piglets).

Tanto
| Item No. | length | colour |
| --- | --- | --- |
| 81753210 | 8 1/2 " | |
Yanagiba, Carving/Sushi Knife
| Item No. | length | colour |
| --- | --- | --- |
| 81757240 | 9 1/2 " | |
Kitchen Knife Set, 3 pieces, 3 colours

this set includes the following products:
| Item No. | Description |
| --- | --- |
| 82607070-23 | Kitchen Knife |
| 82620110-24 | Paring Knife |
| 85015110-26 | Utility Knife, serrated edge |
Fork
| Item No. | length | colour |
| --- | --- | --- |
| 91701200 | 8 " | |
Herb and parmesan cheese knife

| Item No. | length | colour |
| --- | --- | --- |
| 81949122 | 4 1/2 " | |
Utility Peeler, serrated edge
| Item No. | colour |
| --- | --- |
| 82522002 | |
| 82522002-03 | |
| 82522002-24 | |
Sharpening Steel Red Spirit
| Item No. | cut | length | shape |
| --- | --- | --- | --- |
| 71741250 | regular cut | 10 " | Round |
Steak/Pizza Knife
| Item No. | length | colour |
| --- | --- | --- |
| 85002120 | 4 1/2 " | |
| 85002120-03 | 4 1/2 " | |
| 85002120-23 | 4 1/2 " | |