All purpose files
Our All Purpose Files are ideal for general use due to the two different cuts on the flat sides. One for roughing to remove
material quickly and the finer one for surface finishing. Recommended for steel and stainless steel, non-ferrous and soft metals,
plastics and wood.
Length = Cut lenght.

Mini MZ, All purpose file with steel handle, PVC covered

| Item No. | shape | length | section | Cut | packaging | unit |
| --- | --- | --- | --- | --- | --- | --- |
| 11021000 | Hand | 4 " | 10 x 4 mm | Special cut | box | 10 |
Mini MZ, 30 pieces in display box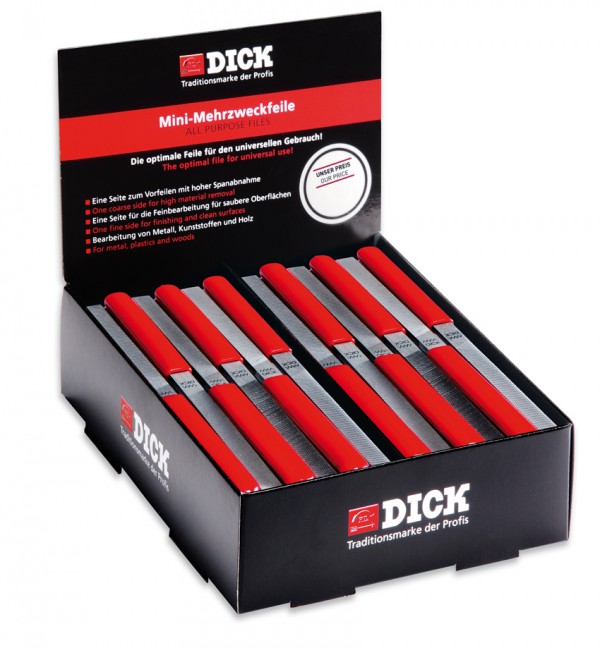 | Item No. | shape | length | section | Cut | packaging | unit |
| --- | --- | --- | --- | --- | --- | --- |
| 11031000 | Hand | 4 " | 10 x 4 mm | Special cut | carton | 1 |
All purpose files `Multicut`

| Item No. | shape | length | section | Cut | packaging | unit |
| --- | --- | --- | --- | --- | --- | --- |
| 11042000 | Hand | 8 " | 20 x 5 mm | Special cut | box | 10 |
| 11042500 | Hand | 10 " | 25 x 6,3 mm | Special cut | box | 10 |
All purpose file with plastic handle display box with 10 files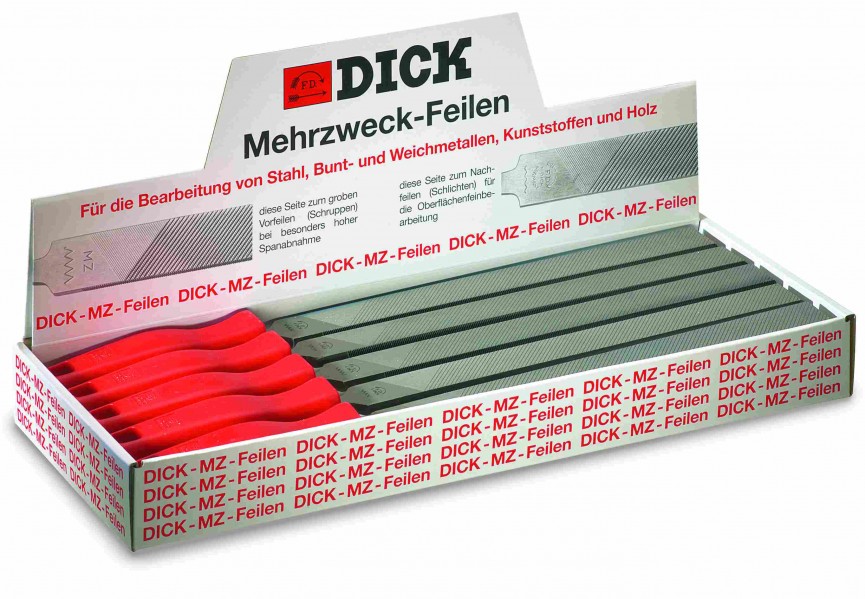 | Item No. | shape | length | section | Cut | packaging | unit |
| --- | --- | --- | --- | --- | --- | --- |
| 11052000 | Hand | 8 " | 20 x 5 mm | Special cut | carton | 1 |
| 11052500 | Hand | 10 " | 25 x 6,3 mm | Special cut | carton | 1 |
Aluminium file hand

| Item No. | shape | length | section | packaging | unit |
| --- | --- | --- | --- | --- | --- |
| 13121590 | Hand | 6 " | 16 x 4 mm | box | 10 |
| 13122090 | Hand | 8 " | 20 x 5 mm | box | 10 |
| | | | | | |
| | | | | | |
Aluminium file
| Item No. | shape | length | section | packaging | unit |
| --- | --- | --- | --- | --- | --- |
| 13521590 | Halfround | 6 " | 16 x 5 mm | box | 10 |
| 13522090 | Halfround | 8 " | 21 x 6 mm | box | 10 |
Lathe file (single cut)

| Item No. | shape | length | section | Cut | packaging | unit |
| --- | --- | --- | --- | --- | --- | --- |
| 16132520 | Hand | 10 " | 25 x 6,3 mm | 2 | box | 10 |
| 16132530 | Hand | 10 " | 25 x 6,3 mm | 3 | box | 10 |
| 16133020 | Hand | 12 " | 30 x 7 mm | 2 | box | 5 |
| 16133030 | Hand | 12 " | 30 x 7 mm | 3 | box | 5 |
| 16133530 | Hand | 14 " | 35 x 7,5 mm | 3 | box | 5 |
File for soft metals (tin, lead)

| Item No. | shape | length | section | packaging | unit |
| --- | --- | --- | --- | --- | --- |
| 16522090 | Hand | 8 " | 25 x 6,3 mm | box | 10 |