Pink Spirit, our colourful
Friedr. Dick brings colour to the world! Pink Spirit stands for radiant optimism, friendliness and empathy. These qualities are a constant companion in life, as well as in cooking. Just like the already familiar bestseller, the Red Spirit series, the Pink Spirit is also uncompromising in terms of sharpness. All blades are ground extremely thin and due to the polished cutting edge, the knife slides easily through the food being cut. The cut is precise and clean. The handle and its colour are the distinguishing feature of this series. The familiar round, typically Asian handle sits perfectly and comfortably in your hand and meets all the ergonomic requirements of a knife for professional chefs and ambitious home chefs.

As part of the product launch of the Pink Spirit series, Friedr. Dick has decided to support the breast cancer organisation "Pink Ribbon Germany". This year, 2 euros will be donated for every single knife sold, 4 euros for each knife set and even 10 euros for each knife block set with knives included.
Paring Knife
| Item No. | length | colour |
| --- | --- | --- |
| 8174709-79 | 3 1/2 " | |
Santoku, Kullenschliff
| Item No. | length | colour |
| --- | --- | --- |
| 8174218K-79 | 7 " | |
Chef's Knive

| Item No. | length | colour |
| --- | --- | --- |
| 8174721-79 | 8 1/2 " | |
Bread Knife, serrated edge
| Item No. | length | colour |
| --- | --- | --- |
| 8173926-79 | 10 " | |
Knife Set, Pink Spirit, 2 pieces

| Item No. | section | colour |
| --- | --- | --- |
| 8179700-79 | L = 16 1/4 inch / W = 3 3/4 inch | |
this set includes the following products:
| Item No. | Description |
| --- | --- |
| 8174709-79 | Paring Knife |
| 8174218K-79 | Santoku, Kullenschliff |
Knife Block "4Knives", Pink Spirit, 4 pieces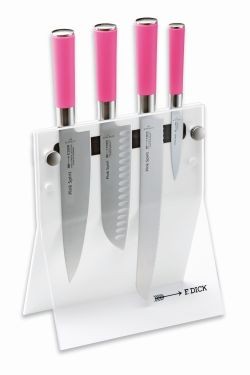 | Item No. | section | version |
| --- | --- | --- |
| 8177200-05-79 | L = 9 1/2" / W = 4 1/2" / H = 16" | assembled |
this set includes the following products:
| Item No. | Description |
| --- | --- |
| 8174709-79 | Paring Knife |
| 8174218K-79 | Santoku, Kullenschliff |
| 8174721-79 | Chef's Knive |
| 8173926-79 | Bread Knife, serrated edge |